Help us transform the way the world eats and drinks
OUR MISSION
If you love food and technology as much as we do, you'll love life at Vita Mojo.


We're on a mission to revolutionise the hospitality experience for operators and their customers. Through our smart digital products, we're powering the digital transformation of your favourite pubs, bars and restaurants.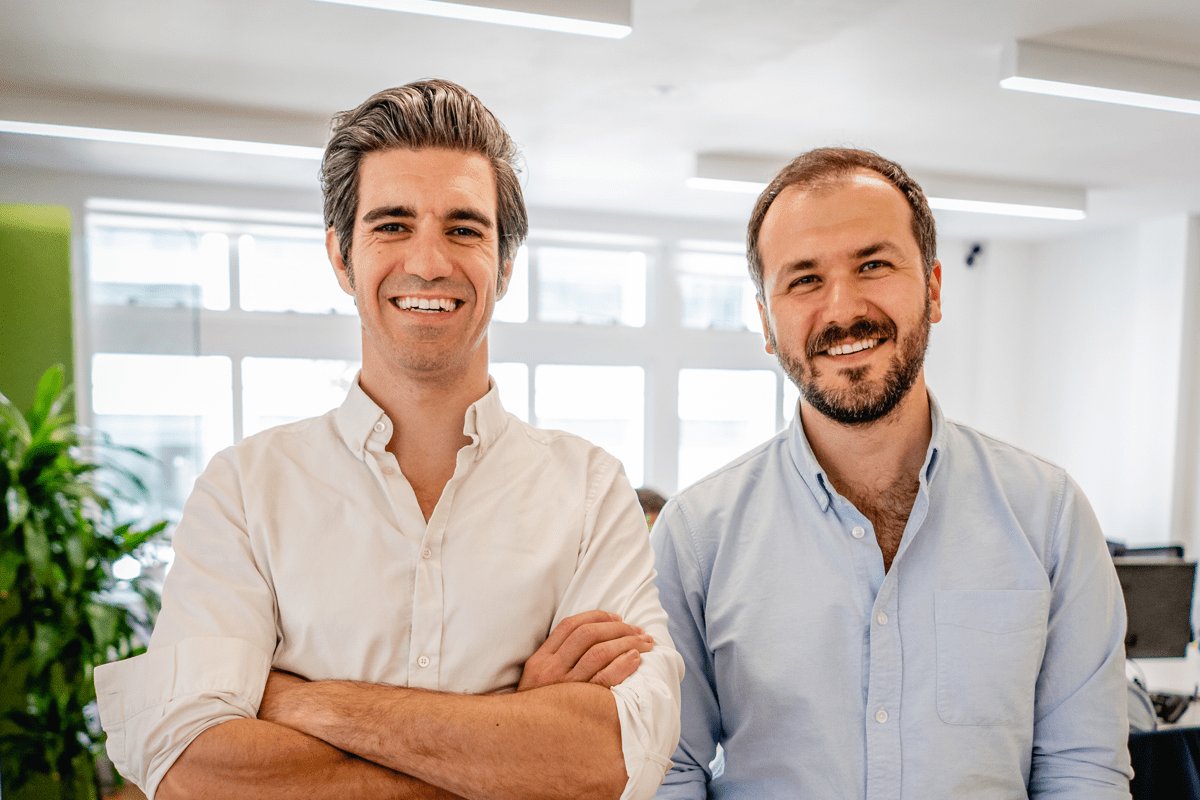 About Vita Mojo
Vita Mojo was founded in 2015 when Nick Popovici and Stefan Catoiu opened the first totally cashless QSR restaurant in the UK powered by Vita Mojo's digital ordering technology.
For three years the Vita Mojo restaurants functioned as live R&D centres where continuous testing and refining of the digital ordering experience informed the development of Vita Mojo's best-in-class technology solutions.
Today, Vita Mojo partners with leading restaurant and pub groups including YO!, Leon, Brewhouse & Kitchen, Honest Burger and Boston Tea Party, powering and transforming their businesses with the latest digital technology.
Our Values
Seek The Win Win Win

We strive to find solutions that work for the client, the team and the individual - so everyone wins.

Fly In Formation

Leadership exists in many forms. We collaborate and support one another to achieve our goals.

Make New Mistakes

Progress is rarely a straight line. We admit our failures and reflect honestly to keep moving.

Live Above The Line

We take ownership of our work and ourselves. We welcome feedback as an opportunity to grow.
Our Vita Mojo DNA
Our passion for technology and food is matched only by passion for our people.
Vita Mojo is a positive, energetic and forward-thinking place to work, and when you become a Moji, you'll be joining a supportive team who've always got your back. Like migratory birds flying in a 'V' formation, we know when to lead from the front, and when to take turns in supporting those who are leading. We value openness, with clear lines of communication, and we don't sugarcoat reality – growing a global company requires hard work and the energy to solve complex problems.

What we're about
Are we right for you? Here are some of the things that sum up life at Vita Mojo.

Open to innovation
We're curious about new ideas and seek new and better ways of doing things, so that we're constantly learning, growing and improving.
Driven by passion
We value people who share their thoughts and use their voice to contribute to the conversation. If you have fresh ideas or suggestions, we'd love to hear them. Let's explore and see where it leads.
Obsessed with improvement
We use team meetings, retros and 1:2:1's to explore what's worked, what hasn't and whether we're living up to our values. Our people are great at what they do, and we're always looking for ways to hone our talents even more.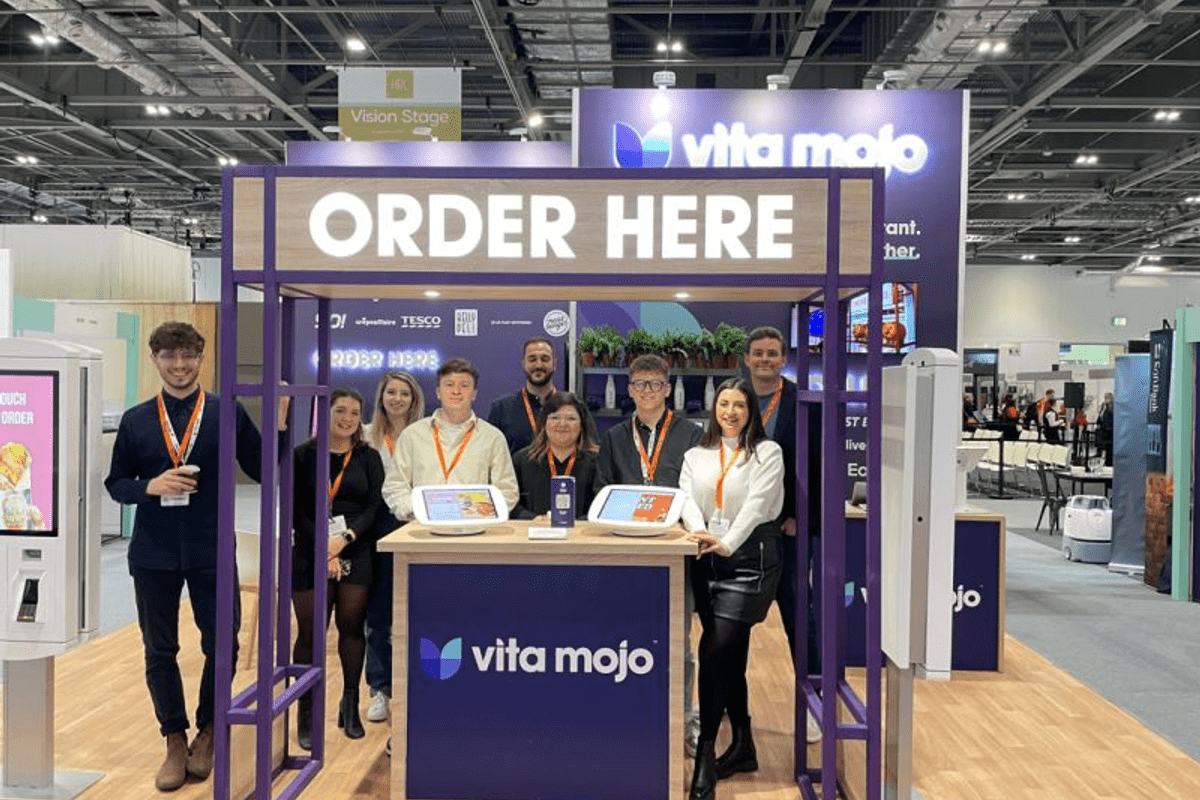 Working at Vita Mojo
As part of Vita Mojo, you'll help shape and define our journey.
Life moves quickly at a rapidly growing company, and our product, technology and ways of working are evolving as we grow. So if you're a roll-up-the-sleeves type who wants variety in your day-to-day and the autonomy to do what you do best, we're confident you'll love life at Vita Mojo.
We work on a hybrid model which means that once a week teams come into the office for an optional team collaboration day, and the other four days are spent working from home (or hot-desking in the office if that's your jam!).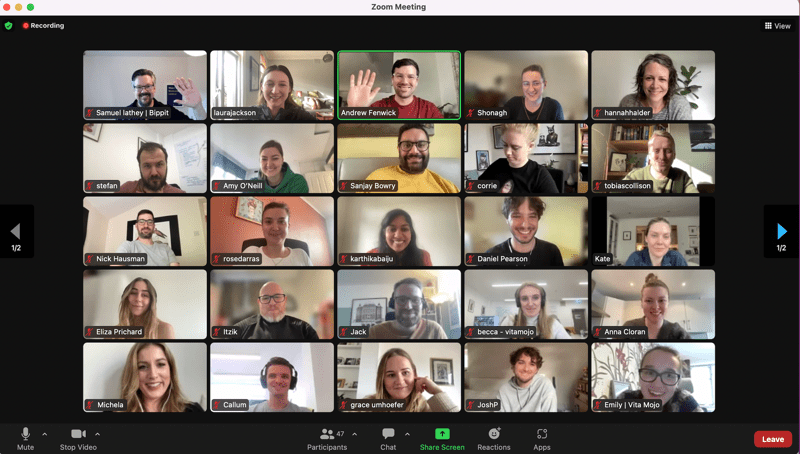 What do our Mojis think?
The company is always thinking of new ways to look after team member wellbeing. The team morale is high and we're always pushing and encouraging each other to work outside of our comfort zones and get the best out of each other.

Becca

Client Success

Having joined from the corporate world, Vita Mojo is exactly what I hoped it would be - I learn new things every day and we have a really strong people and wellbeing culture. Vita Mojo is a collaborative, supporting and ambitious company.

Ed

Product

At Vita Mojo I have been afforded responsibility and opportunities for growth that I wouldn't find elsewhere this early in my career. I have the ability to create my own role and can see how that impacts the success of the business.

Harry

Marketing

Vita Mojo is a place that is constantly moving forward. I get the chance to be creative and innovative and because I am passionate about my work, this is somewhere I will be pushed and challenged. The company culture is conducive to a positive working environment - they care for employees and appreciate the growing talent.

Sandeep

Engineering
Culture
Super Start Up

As a testament to this, Vita Mojo has secured a place as the UK's Number 1 startup to work for by Tempo.

Flexa

We're proud of the flexibility that we offer our Mojis (check us out on Flexa's Global Top 100companies!) and want to promote a positive work/life alignment.
Already working at Vita Mojo?
Let's recruit together and find your next colleague.